The addition of the jewelry set to Middleton's look is a small but meaningful detail.
Kate Middleton continues to show her support for the people of Ukraine through her clothing choices. For the annual Commonwealth Day multifaith service at Westminster Abbey on March 14, she wore blue, one of Ukraine's national colors, just as she had for a visit to London's Ukrainian Cultural Centre five days prior on March 9.
This time, Middleton looked to one of her trusted sources for outerwear, Catherine Walker, for a cobalt take on the Mayfair coat, which complemented her Sean Barrett pillbox hat and drew attention to her sapphire jewels, the most significant of her outfit details. The duchess chose the same necklace and earrings that she wore to meet Ukrainian President Volodymyr Zelensky and First Lady Olena Zelenska at Buckingham Palace in 2020. The jewelry set is a small but meaningful detail and will be appreciated by many who examine her fashion choices closely.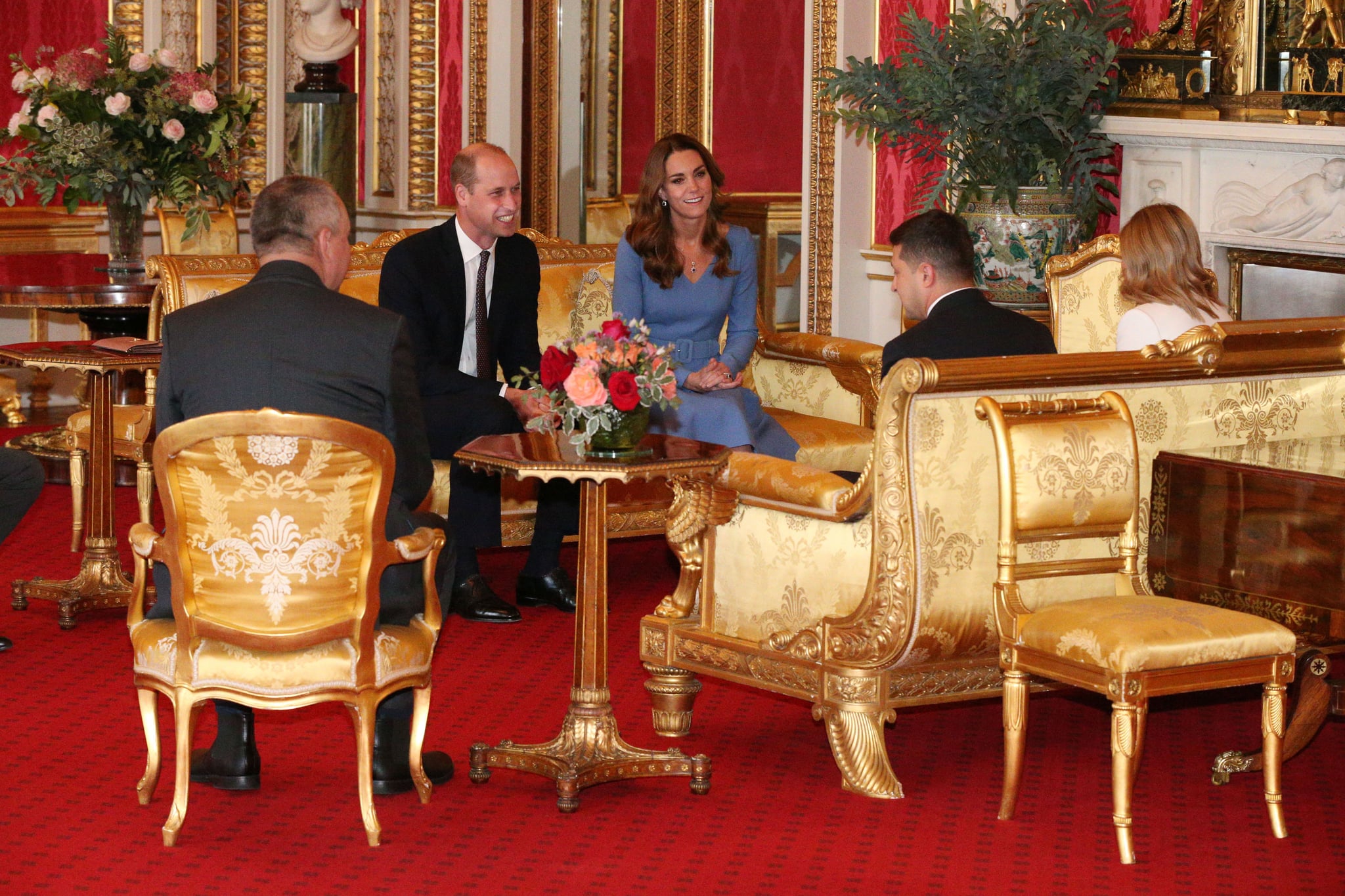 Image Source: Getty / Jonathan BradyAbove: Middleton wears her sapphire set in 2020 to meet President Zelensky and First Lady Zelenska.
Many speculate that Middleton's jewelry comes from Princess Diana's sapphire suite, though it hasn't been confirmed by the palace. Even so, Diana wore sapphires for many occasions, as it was said to be her favorite gemstone that reminded her of her mother's engagement ring. Diana wore a particular pair of drop earrings in Australia that people believe Middleton might have modified to make the pendant on this very necklace.
In addition to her jewelry selection, Middleton accessorized for the Abbey with leather gloves, which she removed to showcase her engagement ring, as it was a key part of the coordination. Middleton finished the ensemble with midnight-navy suede pumps from Rupert Sanderson and a matching Jimmy Choo clutch.
Middleton's previous tribute to Ukraine involved a soft-blue Alexander McQueen cashmere sweater that was pinned with a yellow-and-blue pin several days ago. However, the UK's response to the refugee crisis has been criticized for lack of effort, so many people still feel like these public displays of support fall short while so many families are in need.
Nevertheless, Middleton had another opportunity to make a political statement through her wardrobe on Commonwealth Day, and she seized the moment. We look forward to seeing how she carries this out for the Cambridges' Platinum Jubilee Caribbean tour, which kicks off this coming weekend.
Why Kate Middleton Wearing Sapphires Like Diana's Is Especially Meaningful Now